I added a little ink to the tattoo on my upper back today.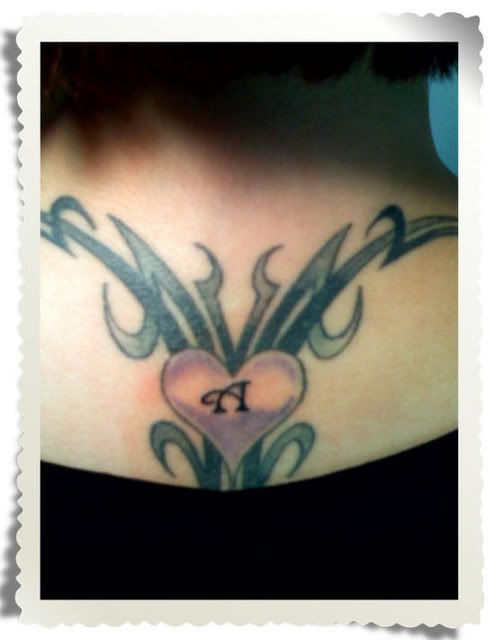 The "A" is new. It is my stepdaughter's first initial.
I was out shopping today...having a little Mommy time to myself when I decided to buzz in to a tattoo shop and get her initial forever imprinted "in my heart". I was in a great mood before the tattoo and even during the process. I've never gotten a tattoo alone before but this was no big deal (I got my nose pierced the same way ~ just got a bug up my ass, walked into a place and got it done while alone).
After I left the tattoo place, I got in the car and nearly lost it. I was suddenly sooooo upset. SO SAD. I am missing Amanda SO MUCH. Did having her intital tattooed on me set something off?
It's not like I don't think about her every single minute of every single day.
I don't know.
I was pretty upset though.
I came home to my husband and kids ~ the best healers of all. I'm doing better now and absolutely love my new ink. Mister Hunzer is going to draw up some additions to this tattoo that include her birthdate, her death date, our other kids' names, and maybe a tear drop.
Who knows.
I just really miss her.
~ xoxo ~