I'm gonna be on the TEE VEE! *wink*
Remember my little trip to Burbank, CA last winter? I went out there to tape an episode of Knitty Gritty as a "Knitster". The other two knitsters and I sat in the background, chatted and did some knitting during the entire show.
Well, our episode is FINALLY airing!! It will be on HGTV on Monday July 2nd at 7am ET. Here are the deets...
Knitty Gritty
Episode DKNG-707
Rockin' Regal Cuffs
Tricia Waddell, editorial director of books at Interweave Press, knits up some cool lace cuffs that are reminiscent of the Victorian era, and now have been co-opted by the counter culture punk rock-set as "The look" paired with a beautiful velvet jacket. Lace stitches are often daunting but this six-stitch, two-row repeat is the perfect project for venturing into the world of lace knitting for the first time. Tricia then shows us how to knit a lace skirt ruffle, a bit more intensive, using a twelve-row lace pattern.
Here is a crappy polaroid picture taken after the taping of this episode was done.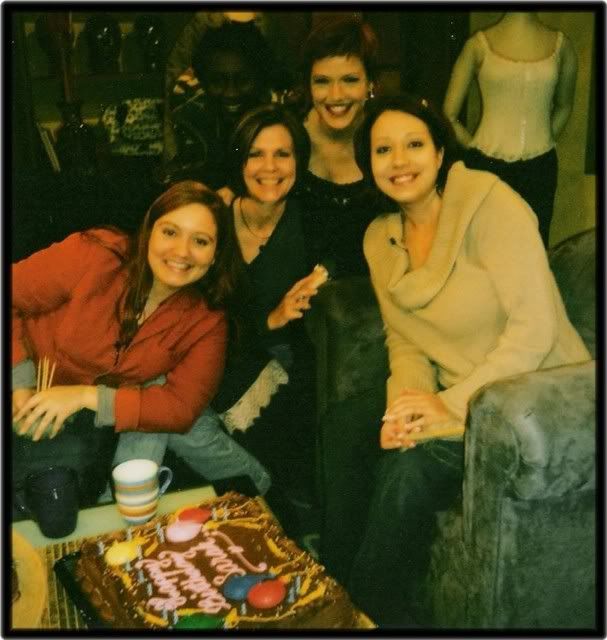 From left to right: Knitster Etta, Knitster Liz, the show's hostess Vicki Howell and yours truly. I went to California for this taping in early December and said it was a kickoff to celebrate my 30th birthday (which wasn't for another 2-3 months). The show surprised me with a birthday cake when we were done. SO SWEET!!
~ xoxo ~