I start work today. EEEK! It's only a 4 hour orientation but I get paid for it. Real money. In the form of a REAL paycheck. Whoa.
**********
I'm getting sick and tired of eating the same old shit every day due to Weight Watchers. However, when I step on that scale on Monday afternoons, it makes the boring ass food worth it! I lost 1.4 pounds at my weigh-in on Monday. That brings my total to 8.4 pounds. It's a slow-go but the bottom line is that I'm losing. I hope to cross that 10 pound mark at my next weigh-in. Then I only have seven pounds to lose for my next "goal". I put my goals in baby steps versus one big goal at the end as I tend to stay more motivated that way.
**********
I recently finished listening to the
"Nineteen Minutes"
audiobook by Jodi Piccoult.
Wow.
It has a very powerful message. I had to stop listening to it at night, before bed, because it would mess with my brain a bit. Good book. Awesome author. I highly recommend her books if you haven't read any of them yet (
My Sister's Keeper
anyone?)
**********
The Baby Boy Child has learned a new trick...
I could watch him all day with his antics! My neighbor had a baby girl one week ago. When I hold her, I forget how little babies are when they are fresh from the ovarian oven. She weighed 7 lbs, 10oz when she was born. When I brought the Baby Boy Child home from the hospital, he weighed 5 lbs 9 oz. I keep thinking how tiny my neighbor's baby is but she is quick to remind me how much smaller the BBC was when he came home. I think I'll do a photo comparison to refresh my brain.
7-10 Days Old





9 1/2 Months Old (taken two days ago)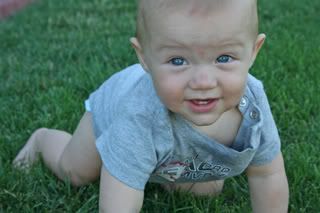 Have a fantastical Thursday!
~ xoxo ~