If not, watch this video. Afterwards, when you are sitting on the toilet trying to pinch one off, you will be singing this song in your head.
While *I* was singing this song in my head, I started thinking about how much I want a clothesline at my new house. I love the smell of line-dried clothing. It has been years since I've used a clothesline. Since the Husband and I do laundry for six people, I was trying to think of ways to make it more efficient. However, I think a clothesline will be frowned upon in our new neighborhood. They have all sorts of rules against blocking the view of the Arkansas River so this idea won't work.
I guess that is okay because while I love the smell of line-dried clothes, I really hate taking clothes off the line and getting chased by bees. That ALWAYS happened to me when I was a kid. I hate bees! It's like they sit in the armpit of a shirt and just wait to terrorize you when you come out to get the clothes. Have you ever been chased by a bee through a clothesline FULL of clothes? It's like running in a fucking corn maze.
In the words of Dane Cook...
"Fuck bees!"
Although in this clip, I'm more afraid of the horse...
******************
On a completely different subject, I actually scrapped last night! My friend Miki released a new kit called "Paraiso". It is friggin' ass GORGEOUS. I put the kids to bed and went to town. I'm still new to this digital scrapbooking thing so if your comments are harsh, you can suck my back. I just started taking a PSE 5.0 class online so I will hopefully have some mad PSE skills in about a month.
Our very own Princess Ariel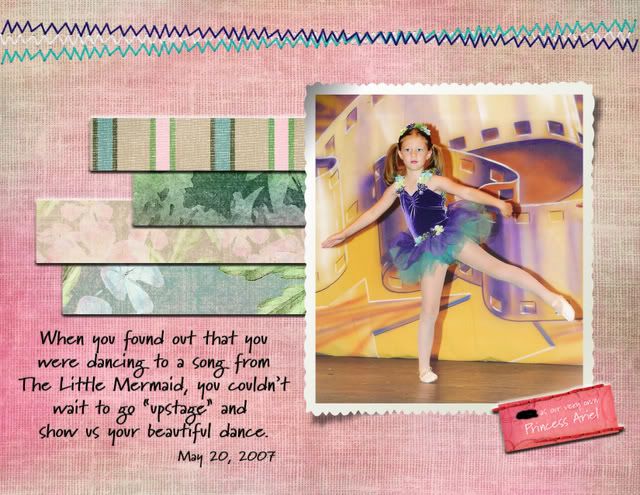 Credits:

"Paraiso" digital kit by Microferk Designs"
Zig-Zag Stitching by Gina Miller
"Stitched Stuff Combo" by Anne Dejong
Vintage Frames by Nancy Comelab
If this is too big and it fucks up your screen, let me know. It is fine on mine but I'm not sure about you!
******************************
I had my 2nd weigh-in for Weight Watchers today. My WW group was closed last Monday because of Memorial Day so we went TWO WEEKS between weigh-ins. I was nervous as I haven't been diligent in counting points. I've been makine wise food choices and eating small portions but you never know if it works until you hit that scale.
I lost
4.4 pounds
! This brings my total to 6.6 pounds since I started three weeks ago. Only 19 pounds to go baby!! If I make that goal, I may add another 5-10 pounds just to see if I can do it. I have to look good in Mexico come November, kwim?
************************
For you crocheters that are out there, go check out the sneak peak of the upcoming Crochet Today issue. OMG ~ I'm in love with some of the projects!!
Crochet Today Magazine
I want to make the Baby Rattles, the Cute Little Cardi, Ring Coasters, Baby Blues Dress...I could go on and on.
~ xoxo ~
*********************