Yeah.
I'm cranky.
The husband and I were squabbling earlier today. All is well now but still, there is always that cloud of poop looming over you shortly after a fight.
At least I was able to do a little shopping today. I took the kids to the mothership (aka, Target) and was able to get some necessities along with some goodies. My favorite being these: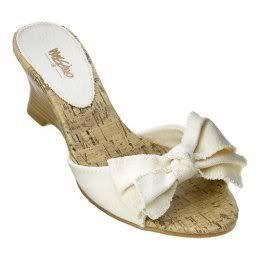 *squeal*
These just scream SUMMER to me.
Plus they were on clearance.
BONUS!
Since my digi Rebel's battery charger is officially lost, I ordered one on Amazon.com today. I can't wait to recharge the camera and get some CAAAA-UTE summer pics of the kids in the upcoming weeks.
The baby boy child had his first splash in the kiddie pool today. He loved it so much that I ended up in the pool with him, fully clothed. Oh well. It's just water, right?
I plan to get new pools for the kids in the next week or two. I was looking at them today but didn't buy any. Shocking, I know. I'm going to buy this one for the big kids and their friends:
I came across an adorable one for kids like the baby boy child. He will LOVE it! I can't wait to get it and set it up for him. I tried to find it on Target.com but to no avail. They have some HUGE ASS pools on there though!!
I'm off to rearrange some bedrooms. It's always fun making things "new" again.
~ xoxo ~