~ Went to the local shitcan bars with my brotha-from-the-same-motha on Friday night. He was pretty tanked by 12am. Since I was DD, I was being a good girl and cut myself off after the 4th jag bomb. It worked like a charm. Brother-J had a couple of girls eyein' him at the bar before we left. He really wasn't in "conversation" mode (or even in "stand up straight without swaying side-to-side" mode either) at this point of the evening. I happened to be talking to these girls and guess who got their numbers? .... ME .... I am an AWESOME wingman baby!
~ Saturday was me sleeping in a little bit, then we took the kids to my parent's house for a night with Grandma and Grandpa. Mister Hunzer and I went to dinner at our FAVORITE restaurant, Saji-Ya.
GOD some calamari tempura sounds devine right about now.
~ Sunday I finished my first week's worth of
The Daily Card Project.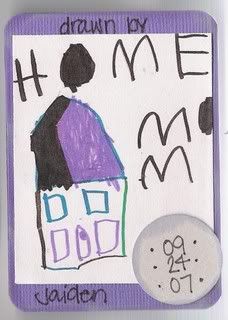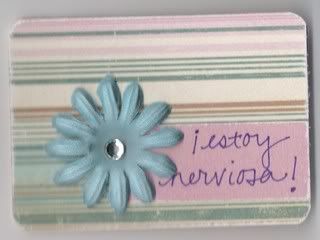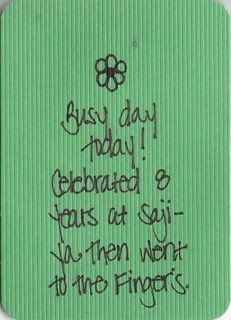 This is such a FUN project to do. Every card is so QUICK and EASY...and FUN!!
Now to totally change directions:
I'm going to the gym now every single day until the day I leave for Mexico ~ Nov 10th. My plan is to do at least 45 minutes of cardio every day and then the weighlifting classes that I can fit into my schedule after that. :)
xoxo