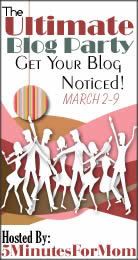 Now's your chance to party like a Hunzer! *wink* Click on the pic above to see the dirty details and join the fun.
I will be one of the crazy ones at the party that makes the quiet/shy ones cry into their jamba juice while the crazy and outgoing ones rock along with me, spilling their drinks on the nice white carpet. I will make the religious ones pray for my soul while the non-religious ones help me get comfortable in my handbasket (and hey ~ EVERYONE is welcome in my handbasket). I will make the gigglers giggle, the wafflers waffle and the timid ones run screaming out the front door wondering what in the HELL they did in their lives to deserve meeting me?
Well, I will do this as much as I can over the internets.
*wink*
Still sounds like a fun thing to do though ~ Join me! (Do me a favor, if you are going to join me, post a comment here so I can come check out your blog!)
xoxo
(Now I'm craving a Jamba Juice in the worst way!)