I saw this skirt on
Esty.com
last night and FELL.IN.LOVE with it!!
I have no idea when I would wear it but I just cannot stop looking at it. So, about that $410...
I'm warning you people now ~ This is going to be one hella random entry today!!
I'm blogging now because I'm waiting for my haircolor to set. I have 19 minutes left to go. It was reddish-brown with blond highlights but I'm going straight red now. I change my haircolor way too often to have someone do it for me. Thank god for box colors. *wink*
I must give a ginormous
CONGRATULATIONS
to my girlie girl in Blogland,
A True Southern Beall
for two HUGE reasons...
1. She's getting married!!!
2. She just had a BEAUTIFUL baby girl!!
Congratulations Love!
12 minutes to go (GOD HELP ME...my scalp itches...yes, I know I am allergic to hair dye but it doesn't stop me from doing it...)
Another
blogland friend
(Hi Sara!!) has been cross-stitching her little ass off! She's making me miss the days of cross-stitching. I did a search on Etsy for my favorite actor and came up with this
kickass cross-stitch pattern
: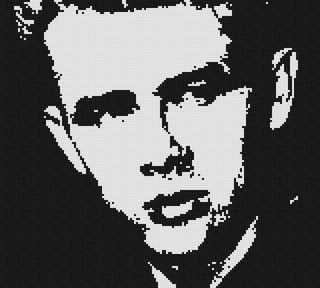 I want it. (FYI ~
The seller
has some pretty cool patterns). I wish I had the time to create and sell stuff on Etsy. Someday, some day. :)
Gotta go ~ Haircolor is done!
~ xoxo ~